Ok where do I start with this report? It can only be at the beginning so hear goes.
Its Xmas and a message from Matt appears,  anyone fancy doing  the Tiree Ultra he fancies this as his first Ultra run and is looking for company, he obviously sent this to us Ultra veterans myself and Jim, sensibly  Jim told Matt no chance, me I looked at my bottle of Peroni (not my first of the night) and said why not, can't be tougher than Glen Ogle my first and only Ultra event the previous month, and with that the deal was done.
Entry complete Matt made strong noises about camping on Tiree, he was politely slapped down and a property with heat, walls and a roof was secured, flights were secured with Loganair with Matt securing bikes as the mode of transport for before and after the run.
Training involved the usual Spring marathon as the long run training coupled with a few back pack runs, niggles turned into proper pain and I had to stop running completely for four weeks missing the Dundonald 10k and more dissapointgly the Mull half marathon, on the plus side I bought a mountain bike to keep training and practising for the bike test on Tiree, while I struggled Matt sailed through Boston, London and then Stirling, threw in a holiday marathon and a triathlon, it was great to see John Allan the third member of the Tiree team struggle at Stirling – sorry John but it gave me a boost😀
The weekend arrived and we left sunny Troon heading for what was being confirmed by every weather forecast as bad bad bad running weather
So we arrive on the 14 seater plane after a scare when they asked for a volunteer to travel the next day as the plane was overweight, cue 13 runners staring at the obvious non runner it worked and he took the 250 euros and a night in Glasgow compensation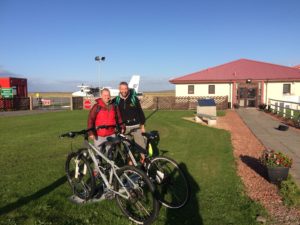 Bikes were awaiting on arrival and we cycled to the briefing two miles away, the briefing confirmed that the weather would be bad bad bad, with that news we cycled the five miles  to the cottage, note that's 7 miles cycled when I should be resting, Matt was ok and I was surprised he did not fancy a quick swim to complete his duathlon taper !! John sensibly had travelled with his parents and was chauffeured around the island, who was laughing now!!
Thinks looked up when we reached the cottage where we were sharing with eight other runners, all of them were great and all got on really well, though as we entered the cottage close to 8pm they were all relaxed around a roaring fire with a smell of fine food filling the cottage I unpacked and opened my tin of soup
The morning wind hammered the Windows as at 6am I ate my porridge pot while the rest of the cottage tucked into various delicious looking carb loading produce, it was at that point I again realised I was under prepared on the food point, however as you all know clothing I can definitely have enough and as I dressed myself in enough layers for the Everest Marathon and packed a change of dry clothing for half way Matt was debating weather to wear arm warmers with his vest !!!!
i pointed outside the gale force winds and rain and he relented to a t shirt under his vest, by the start line this had extended to a hat and a long sleeve t shirt and a jacket, and off we went to catch a bus to the start, the bus never came but luckily another runner saw us soaked doubled back and drove us to the start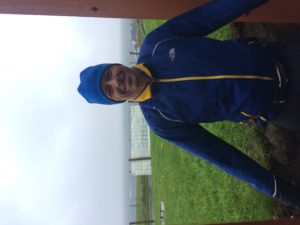 So so here I am  all wrapped and ready to head to the beach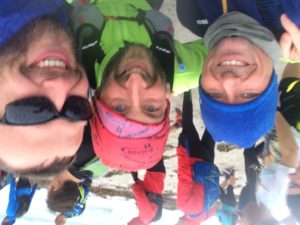 Pre race selfie and we was off.
There were three check points 8.5 miles 17.5 miles and at 26 miles, the route was a complete circle of the island, the run to the first check point involved some serious hill scrambling and this took me by surprise as I expected sand and road running, with the rain and wet conditions the road shoes were going to be a bad choice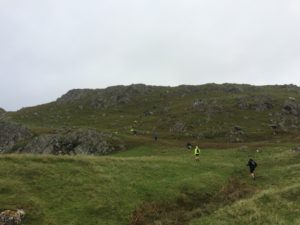 So hill one after a couple of miles – let the fun begin, this was a hard hill to climb with parts only doable on hands and knees, eventually it was up and over then up and over another one and onto the first beach, I hit the first check point in my plan of 5 miles every hour fairly comfortable, quick Jaffa cake and off to the next check point at half way , this is where the weather really turned ugly driving rain and wind continuously meant I reached half way still inside my target time but soaked, I was really cold at this stage so made the call to change into my dry kit, so I stripped off and changed completely and felt better but had taken almost 30 minutes to do so
so with dry kit feeling great I headed to the mile 26 checkpoint feeling good, this is where it all went wrong, between these two checkpoints the terrain is mainly grass and bogs, more akin to fell racing, now remember my clean warm kit I was feeling smart not for long, I had only been in the new kit for around through miles when I sank into a bog knee deep  and made the mistake of putting my hands out to stop myself and you guessed it right into cow sh@te, I was a little unhappy at this point and even considered never drinking Peroni again or just deleting Matt from my phone , after a couple of runners checked I was ok after witnessing my fall I had to use all my water to wash my hands leaving me with no water for around another hour at least, after another few slips as my trainers were now caked in all sorts I eventually made it to the next beach where I basically waded in and had a clothed bath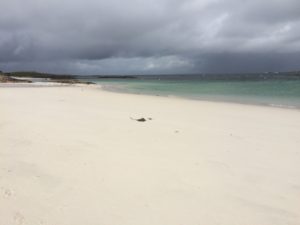 Worst places to have a bath !!
I continued to mile 26 but was now losing more time, I filled up my water bottle and carried onto the big hill at mile 26 !!!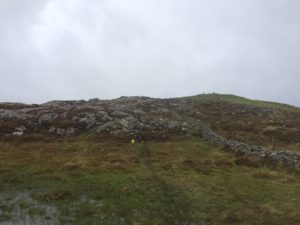 Who puts a hill at mile 26 !!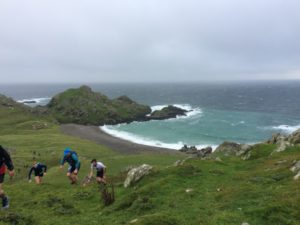 View from the top of mile 26 hill
From here I knew I would finish and I just jogged slow or walked the remaining nine miles mentally trying to remember how to delete Matt's number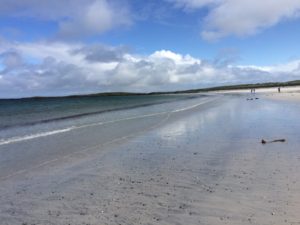 More beaches and a few miles of road and the finish came into sight, Matt and John had great runs and were fed and warm but we're still waiting to see me to the finish where 7hrs  and 37 mins was my finish time happy with that as Stava moving time was 7hrs 04mins so the kit change, bath and photo stops slowed me down but it's an Ultra it's about finishing isn't it?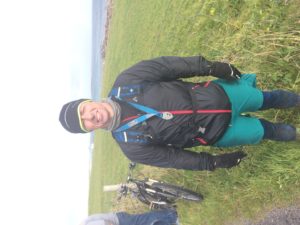 So it was  off to the bar then back to the cottage ahead of the evening Ceiliah where to be honest I was knackered and there was no Peroni, I was the last finisher in the cottage but the cottage did house the second male finisher ( not Matt) and the third lady and importantly a warm fire and fizzy wine courtesy of the other guests, another lesson learnt was me and  Matt had brought no food for Sunday night or anything for breakfast Monday morning, every day's a school day !!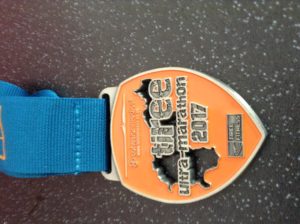 Matt Pearce 5hrs 46.35
John Allan 7hrs 01.43
Darrell Dunscombe 7hrs 37.34
Cant wait for Cross Country now that will be a breeze